By Claire Lee
Having your own dog is a huge responsibility, and it takes up a large amount of your time. It helps if your canine is biddable, though, as many tasks and chores with it become easier then. That's why we recommend taking dogs to schools for the best dog training in Calgary.
The best dog training schools do more than teach your dog how to recognise and obey commands. It also improves your relationship with your pet, so your bond with your best friend ultimately becomes stronger.
To help you decide where to enroll your dog for training, check out our list of the schools for the best dog training in Calgary below.
1.  Raising Fido
Despite being one of the newer dog training schools in Calgary, Raising Fido is generating buzz with its sensitive and loving approach to dog training.
Raising Fido is owned by certified dog trainer Jodi who has been doing this since 2015, this school boasts an excellent team of other certified trainers who absolutely love dogs.
Focusing on puppy and adolescent development, Raising Fido utilising a reward-based approach to training.
We love that they also take onboard the latest scientific evidence to continue enhancing their programs, as well as make it a point to minimise negative experiences for fidos.
Dog parents would certainly appreciate their extensive range of training programs, whether they opt for a single class or invest in a multi-course bundle. Classes include Socialization, Life Skills, and Teen Confidence, among others.
We also like that dog owners can choose between private and group training, whichever is best for their companion dog at the moment.
Highlights
Single class to multi-course bundles available
Reward-based training
Integrates the latest scientific evidence for welfare-focused trianing
Team of certified professional dog trainers
Specialises in puppy and adolescent development
Customer Reviews
Stacy Drummond had nothing but high praises for Raising Gido on Facebook:
"Jodi is the best of the best – strongly recommend her for all your Fido training needs
"
2.  Clever Canines
Founded in 2005, Clever Canines is one of the schools for the best dog training in Calgary. They go above and beyond dog training and obedience, focusing on the freedom of your dog.
Their approach when it comes to teaching dogs relies on education and understanding. With their philosophy, training, and sports programs, leave it to Clever Canines to teach your dog tricks and manners that allow them to do anything and go anywhere without you having to worry about them.
Highlights
Day school
Club 360
Dog training
Customer Reviews
Clever Canines is recommended by their customers for having very friendly and knowledgeable staff with a strong sense of community, fun activities, and great facilities.
One happy client left a review:
"We take Maggie to day school and she loves it. Plus they reinforce what we have taught her through core. They also provide monthly report cards of how your dog is doing."
3.  Dogma Behaviour & Education Centre
BEST FOR 
Calgary's premier dog training and education centre
PRODUCTS
Day school, dog training
WEBSITE
https://www.dogmatraining.com/
ADDRESS
515 – 70 Avenue SW; 5,2835 37 Street SW Calgary, Alberta
CONTACT DETAILS
Call: +1 587-352-6738

Email: [email protected]

OPERATING HOURS
Mon to Fri: 6:30am-6:30pm
Dogma Behaviour & Education Centre is a multi-awarded dog school for all your dog education, daycare, and product needs.
As one of the best schools for dog training in Calgary, they believe that dog training works hand-in-hand with building relationships. It's about communication and mutual respect.
Other services Dogma provides are training and a wide range of educational programs. The centre of their business lies in knowledge, awareness programs, and seminars.
Highlights
Certified dog trainers
Personalised programs
Pet store
Customer Reviews
Dogma Behaviour & Education Centre is recommended by their customers for being a welcoming place and for having incredibly friendly and knowledgeable trainers and staff.
One client left a review:
"The staff is fantastic! They're attentive, knowledgeable, and friendly! The skills our puppy learned and the socialization were invaluable and I can't wait to register for more classes!"
4.  Bark Busters
Established in 2003, Bark Busters provides personalised dog training home services. It also comes with a written lifetime guarantee.
In addition, they believe that the secret to having a good relationship with your dog is leadership and clear communication.
And as one of the schools for the best dog training in Calgary, Bark Busters rely on training, not punishment. With the help of their trusted team of trainers, you can witness results in just hours too!
Highlights
Written lifetime guarantee
Basic training and obedience
Franchise opportunities
Customer Reviews
Bark Busters is recommended by their clients for being extremely helpful, explaining things clearly, and showing immediate results.
One customer wrote a review:
"We have been very happy with the Bark Busters experience. Roberto is a friendly person and a great instructor. He is always happy to address specific training requests as our puppy grows up, and willing to accommodate our schedule for visits. The method has proven to be very effective, and our whole family is very happy with the progress so far! Thanks Roberto. I would highly recommend Roberto and Bark Busters."
5.  Happy Tails Dog Training
BEST FOR 
Empowering you to positively influence your dog's behavior
PRODUCTS
Puppy classes, obedience classes, in-home training
WEBSITE
https://www.happytailsdogtraining.ca/
ADDRESS
8825 Scurfield Dr NW, Calgary, AB T3L 2A8, Canada
CONTACT DETAILS
Tel: (403) 208-5448

Mobile: (403) 835-5448

Email: [email protected]

OPERATING HOURS
Mon to Sun: 9:00am-9:00pm
Founded in 2005, Happy Tails Dog Training is a certified professional dog trainer and canine behavior consultant in Calgary.
They believe that handling dogs should be fulfilling, realistic, and applicable to real life experiences, and should also bring about positive behavioral changes.
As one of the schools for the best dog training in Calgary, Happy Tails Dog Training guides families to better understand their dog through the different programs they provide.
Highlights
Certified professional dog trainer
Certified behavior consultant canine
Customer Reviews
Happy Tails Dog Training is recommended by their customers for having great puppy classes, having a supportive atmosphere, and for successfully teaching dogs great manners.
One client left a review:
"Agent attended Happy Tails for his aggressive behavior towards other dogs. Cheryl taught me the right techniques to help him overcome his anxiety. Before the training, walks were stressful, a constant need to avoid other dogs. Now he can walk past a barking dog without incident. Thank you Cheryl!"
6.  Cultured Canines
BEST FOR 
A lifestyle, not just a class
PRODUCTS
C.O.O.L. course, fast pack, puppy classes, private classes
WEBSITE
https://culturedcanines.ca/
ADDRESS
1313 16 Ave SW, Calgary, AB T3C 0Z7, Canada
CONTACT DETAILS
Tel: 403-472-2384

Email: [email protected]

OPERATING HOURS
Always open
Cultured Canines was established in 2011 and is reputable for offering outdoor, treat-free, dog training classes. They believe in building a relationship with your dog built out of trust and respect.
Because their classes go beyond teaching basic commands, Cultured Canines guarantees that within 5 weeks, you won't need to put your dog on a leash anymore.
As they give outdoor lessons and use natural methods to teach your dogs, Cultured Canines is considered one of the schools for the best dog training in Calgary.
Highlights
Hands-free leash
Martingale collar
Mask-free method
Customer Reviews
Cultured Canines is recommended by their clients for having attentive staff, game-changer classes, informative activities, and fantastic programs.
One customer left a review:
"Beth is such an amazing trainer! My sisters have taken her courses with their dogs. Savannah in particular was a monster when I first met her! I've joined my sister for a couple of classes with Savannah and love Beth's style of teaching.  
Savannah is so much better behaved after the training and continued reinforcement. I'll even go borrow Savannah sometimes and have doggy dates with Beth!"
7. Happy Dawgs Obedience Training
Photo credit: Happy Dawgs Obedience Training Website
BEST FOR 
Licensed, insured Calgary-based dog trainer
PRODUCTS
private, in-home training and board and train programs for problem dogs
WEBSITE
https://happydawgtraining.com/
ADDRESS
Calgary, AB
CONTACT DETAILS
Tel: (587) 582-2272

Email: [email protected]

OPERATING HOURS
Mon to Fri: 8:00am-9:00pm

Sat: 9:00am-9:00pm
Does your dog rush the door and jump on people coming in or pull on the leash during walks? At Happy Dawgs Obedience Training, their team can help you curb these behaviors,
Trust that they can easily and quickly resolve any issues you may have with your furry friend, all while making sure that each dog is cared for and given the proper attention they deserve.
Highlights
More than 30 years of experience
Helps dogs learn how to become happy, calmer, and more relaxed
Teaches you how to quickly and easily teach your dog to listen and respect you
Customer Reviews
Happy Dawgs Obedience Training is recommended by their clients for having a great attitude when teaching dogs and genuinely caring about each pet's well-being.
8. Brilliant Best Friends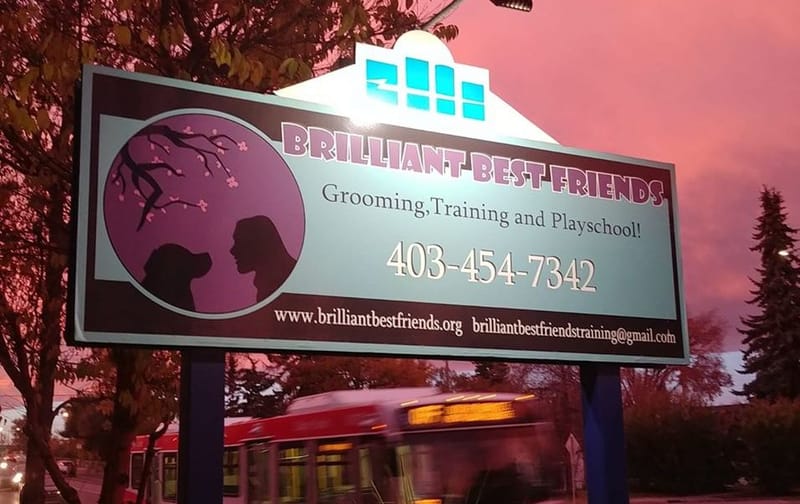 Photo credit: Brilliant Best Friends Website
BEST FOR 
Caring and skilled dog trainers
PRODUCTS
Private and group training programs

Grooming

Daycare and playschool

WEBSITE
https://www.brilliantbestfriends.org/
ADDRESS
4 14 Street Northwest, Calgary, Alberta, Canada
CONTACT DETAILS
Tel: 403-454-7342
Email:

[email protected]

OPERATING HOURS
Mon to Fri: 7:00am-6:00pm

Sat: 8:00am-4:00pm
Brilliant Best Friends is a small grooming salon in Kensington, Calgary, Alberta! They also offer playschool and reward-based dog training. They strive to help any average pet owner and get them the help they need so that their canine buddy can live happily in their home.
Their team also dogs get the right kind of socialization from the beginning to prevent any fears or behavioral issues later in life!
Highlights
Offers online services
Offers group packages
Treats your dog as if they were their own
Customer Reviews
Brilliant Best Friends is loved by their clients for being courteous and attentive to all their needs.
One customer wrote a review:
"Awesome place, fantastic and caring people. I can fully trust they are taking good care of my dogs there & can't say that about many places in the city. As a trainer I am extremely picky about what kind of experiences my dogs are having and what kind of training, or quality of treatment they are receiving. Having a positive reinforcement based daycare in the city is invaluable, along with the small and highly managed playgroups with a good staff to dog ratio is absolutely essential to the dogs having a good experience. Cannot recommend enough. Thank you BBF and crew!"
9. For Dog's Sake YYC
Photo credit: For Dog's Sake YYC Website
BEST FOR 
A skilled and capable dog trainer
PRODUCTS
Private training

Dog classes

WEBSITE
https://fordogssakeyyc.com/
ADDRESS
Calgary, Alberta, Canada
CONTACT DETAILS
Tel: (403) 819 – 1510

Email: [email protected]

OPERATING HOURS
Mon to Fri: 7:00am-6:00pm

Sat: 8:00am-4:00pm
For Dog's Sake YYC promotes and utilizes positive reinforcement dog training techniques, which is a humane training method that uses reward-based training to build a relationship of trust and respect between you and your dog. Their team is focused on not only training your dog, but teaching you how to best communicate with your pet, without using fear, submission, or intimidation.
Trust that their goal is for you to have a happy, well trained dog in all environments and not just within the home!
Highlights
Karlee: A graduate of Karen Pryor Academy for Animal Training and Behaviour
Regularly attends conferences, seminars, online classes, and workshops about dog care
Continued education and development
Customer Reviews
For Dog's Sake YYC is loved by their clients for being courteous and attentive to all their needs.
One customer wrote a review:
"Would recommend Karlee to anyone (and I have recommended her to many people). I have had the privilege of learning from Karlee both in class, and one-on-one. She has helped me tremendously with my dog's training and behavior. She opened my eyes to the world of positive reinforcement and training a fearful and reactive dog. He is so much happier and well adjusted because of Karlee's help. If you think you need help, talk to her. She is kind, professional, honest and courteous."
10. Dog Squad
Photo credit: Dog Squad Website
BEST FOR 
A teaching style that works with all dogs
PRODUCTS
Dog training
WEBSITE
http://www.dogsquad.ca/
ADDRESS
Calgary, Alberta, Canada
CONTACT DETAILS
Tel: 403-224-2224

Email: [email protected]

OPERATING HOURS
Dog Squad is a company your dog will truly appreciate. Offering various training programs to make sure to reach his full potential, Dog Squad deploys highly experienced trainers to make your dog become the best version of itself.
While you're away, they'll be making sure that you don't miss out on the fun too, Dog Squad also aims to give you and your dog the perfect relationship. You are also given the chance to teach your pet tricks which can assist you in forming a bond of a lifetime. By offering a multitude of plans for you to choose from, your dog will be as happy as you are when he is fully trained.
Highlights
Confidence in making sure to get the best out of your dog
Provides strict and smart planning in order to let your dog improve
High dedication into having the best possible relationship with the dogs.
Customer Reviews
Here's a review from one of Dog Squad's clients:
"As a first time dog owner of a new puppy I wanted to find a professional trainer right from the start to set us up for success. I was beyond impressed with Tyson's expertise and knowledge of the best techniques to send me in the right direction. He has a great facility and offers a private 1 on 1 session. This is not your typical group setting that often doesn't produce the results you're looking for. This is the real deal, taking a dog owner through the proven fundamentals of dog psychology (with supporting videos and more) to help them learn how to master the craft. Tyson offered proven techniques and methods for owners to memorize and apply, and then trialing some of the basic commands with your dog in the lesson. After your session he provides online material to members to make use of throughout your journey. Invest in this early, it will pay off later! Thank you Tyson!"
Here's another one:
"Thanks so much in under a week we have come a long way in becoming pack leaders Aries is doing great with the basics at 8.5 weeks and storm went for her first loose leash walk yesterday wow felt great and she has come very far with the distraction almost in complete avoidance. Are other dog Sinder is now back in a beta position, WOW what a difference in our house in under a week . Can't thank u enough . Take care and thank you so much!"
11. ImPAWSible Possible Inc.
Photo credit: ImPAWSible Possible Inc.
ImPAWSible Possible Inc. has provided professional dog training and behaviour consulting as well as dog trainer education and mentoring in Calgary and the surrounding area. Our accredited team of trainers and behaviour consultants have been entrusted by dog owners, rescue organizations, service dog programs and therapy dog programs for our outstanding service and for our expertise in training, behaviour modification and communication.
They are committed to making a genuine difference in the lives of our clients, their dogs and our community, our mission is simple: to make a difference, one dog and one person at a time.
Highlights
Values their relationship with not only the dogs, but with the client as well
Their expertise in training will ensure that your dog gets the best treatment it will ever get
Committed to making a significant difference in their client's bond with their dogs
Customer Reviews
Here's a review from one of imPAWSible's clients:
"Cat is very well versed in many training methodologies. Her tool kit contains something for everyone. Cat's constant geeky behavior finds are an efforts to expand her knowledge base to assist Feisty Fido's far and wide.
Cat encourages me to delve deeper into the science to better assist my own clients.
Thank you Cat for being a humble and knowledgeable trainer as well as inspirational mentor."
Here's another one:
"We are just finishing up our 6 week course with Cat from Impawsable Possible. Cat has been great, she was recommended to us through AARCS and has helped and given support & advice on puppy behaviour issues in addition to our puppy classes. She is unique in her understanding of dog behaviour, she is well educated and with a calm and natural manner which has dogs, happy learning and enjoying her class in a safe environment. I would definitely recommend Cat to anyone looking for a dog trainer. Much appreciated Cat, love Coco ?"
12. Paw Z Tracks
Photo credit: Paw Z Tracks
BEST FOR 
Professional Agility Training
PRODUCTS
Group Training Classes
WEBSITE
https://pawztracks.ca/
ADDRESS

5151 101 St NW, Calgary, AB T3L 1S4, Canada

CONTACT DETAILS
403-283-1758 |

[email protected]

OPERATING HOURS
Contact for more information
Paw Z Tracks has been in service, providing the dog sport that develops  a client's relationship with his/her dog. They have been in the industry for over 20 years!
Their classes will indeed train your dog to understand both verbal and visual cues. Depending on your dog's knowledge, they can either be in beginner, novice, intermediate, or advanced classes.
Highlights
Passionate, energetic instructors

Improves dog's skills and attitude

Enjoyable for both dog and owner
Customer Reviews
Here's a review from one of Paw Z Tracks' clients:
"Agility training with PawZTracks has been a tremendous opportunity to build a positive relationship with my dog. The instructors are knowledgeable and enthusiastic, which makes the entire experience fun! My dog's confidence has noticeably improved and she is developing an impressive ability to race through tunnels and over jumps. I can recommend PawZTracks enthusiastically. Both of us are having terrific fun and we are coming back!"
Here's another one:
"My dog Kona and I have been taking agility with PawzTracks for a couple of years now. I am not sure who has more fun, but I think it might be me! Both Kona and I were a little apprehensive at first but now its truly a night to look forward to for both of us. Kona loves the mental challenge and usually aces the course. That's if his owner(me) can remember where to go next. We spend as much time laughing at our human mistakes as celebrating each new challenge the dogs master. It is such a friendly and sociable night and we all cheer for each others dogs. So whether you want to come to just have fun, or work towards competing, PawzTracks team is amazing. Can't wait to start up in September again."
13. Dogtopia of Blackfoot
Photo credit: Dogtopia of Blackfoot
Dogtopia of Blackfoot is a place where you can entrust your dogs while you are away. They provide dog daycare, boarding, training and spa services.
To ensure a safe environment for your pets, their playrooms are fully-supervised and spatious. They also sort the dogs according to their size, temperament and play style.
Highlights
Fully supervised playrooms
Highest standards of safety
Friendly and knowledgeable team
Customer Reviews
Here's a review from one of Dogtopia of Blackfoot's clients:
"Nikita helped train me so I can be a better trainer to my little guy! Absolutely the most knowledgeable, understanding and helpful person ever! If you need any help, advice, have any questions about your dog GO SEE Nakita!! Worth every dime ten times over!!"
Here's another one:
"I took harley there and got a teddy bear haircut I met Brandi outside had a discussion with her which left me at ease to leave my dog with her the end result was fantastic he came out so perfect . Normally the old groomer Harley would race to get out but here he was so calm and collected almost like he didn't want to leave i highly recommend Brandi and if she will allow us Harley will be seeing her in the future."
14. K9 Fun Family
Photo credit: K9 Fun Family
K9 Fun Family is a dog day care center based in Calgary that offers progressive training methods for dogs, especially canines, to guide them in becoming an ideal companion.
For when you are away and cant be with your pet, they also offer daycare and overnight boarding in their home.
Highlights
Progressive training methods

Private dog training

Schedule at your convenience
Customer Reviews
Here's a review from one of K9 Fun Family's clients:
"Awesome place for us and our dog! We highly recommend Gulnaz for a dog (or a cat) daycare. She is very knowledgeable and responsible. Gulnaz sent us photos everyday while we are away so that we know our dog is safe and having a lot of fun with her and other dogs. We can see she cares about owners as much as pets."
Here's another one:
"Excellent place! We had to leave our 10,5 years old dog for 3 weeks and chose it to be with Gulnaz and David. Our dog definitely felt stress-free and enjoyed communicating with other dogs there. Also, we noticed some positive behavior changes. I highly recommend this place."
An obedient and attentive dog isn't only beneficial for you but for your dog as well… because you may also get to save their lives if accidents arise.
All you have to do is tell them your commands, and with the help of the training they've undergone, they will gladly obey you and heed your every order. That can help keep your beloved dogs safe!
Anyway, while having a dog is a great way to have a safe and comfortable home, why not check out our list for the best home security systems in Calgary too? Those can further increase the level of security of your household… and give Rover some support!