Building a sunroom requires understanding the best materials, energy efficiency, and the right location. So when you want to add a sunroom to your home, get it built by the companies that do the best sunrooms in Calgary.
It requires expertise in handling glass to make efficient and beautiful sunrooms, and these companies have been working with glass for a long time. They have been building Calgarian sunrooms for years, and their rooms speak for themselves!
Hiring these companies would help you understand all the factors that come into play in order to construct the perfect sunroom:
1. Select Sunrooms
Select Sunrooms is one of the longest-running sunroom services in the industry. They are a full-service sunroom company that can also give you options for roll shutters and screens.
They give their clients excellent workmanship and a high degree of control so they can continue providing the best sunrooms in Calgary.
They also make sure to explain every single step of the way and ask for your opinion—whether it's the location of your sunroom, or the materials that they should use, you're in control.
Highlights
They specialise in giving you the customised sunroom that you want for your house
Provides easy and flexible financing options, to make sunrooms easy and available for everyone
Have been working in the Calgary area since 1970
Customer Reviews
Here's a review from one of Select Sunrooms' clients:
"I want to say how impressed both my husband and I have been with our new front porch enclosure/sunroom. It is now our favorite room. We love it!! We must also say that from the first time we met you, we have been most impressed with your personal and professional approach. You asked questions, listened to us, shared options both in your show room and provided further advice once you came to our house. Your installer was excellent, the product is excellent and we would not hesitate to recommend your company to anyone looking for a new sunroom or front Porch enclosure."
Here's another one:
"We decided to have a Sunroom. What to do first…you google. We found Select Sunrooms, and visited the showroom on a Saturday Afternoon. The Showroom is fantastic with lots of great ideas.
We were very well advised and we decided on our Sunroom. Everything went to our full satisfaction. We are very happy that we decided to go with Select Sunrooms and would recommend this company to anyone.
Thank you Fred and the whole Select Sunrooms team."
2. Desert Sun Patios Ltd.
Desert Sun Patios has been one of the go-to places for patio covers and sunrooms around their area of service. They love what they do, and it shows through their vision of revamping ordinary homes into "resort-style houses".
They also offer free professional consultation services that you can access anytime. Outside of sunrooms, they also provide great deck additions to your home.
Beautiful pergolas, patios and deck covers await you! Whether you want a DIY kit or you want to have the sunroom professionally installed, Desert Sun Patios is dedicated to giving you the best sunrooms in Calgary.
Highlights
They give you free estimates with competitive pricings and full transparency
They have been working in Calgary for 18 years
Customer Reviews
Here's one of the reviews from Desert Sun Patio's clients:
"We had an overall satisfactory experience from selection to delivery to installation. The installer accommodated some aesthetic changes for us with no issues. No hesitation recommending DSP services to other parties."
Here's another one:
"We absolutely love our deck. All of the people we dealt with were professional, Bob, Paul, Derek, Mike and Danielle. They all did a super great job. Really, really nice to deal with. We could not of had a better experience. Love, love, love our deck. If we add on to our deck Desert Sun Patios will be our first choice. Thank you to everyone who worked on our deck."
3. Suncoast Enclosures
BEST FOR
Modern sunrooms
SERVICES
Products
WEBSITE
Suncoast Enclosures
ADDRESS
3328 114 Ave SE, Calgary, AB, T2Z 3V6
CONTACT DETAILS
Contact: Devin Smith

Phone: (403) 668-4440

Email: [email protected]

OPERATING HOURS
Mon – Fri 9am–4pm
Sat 10am–2pm
Suncoast Enclosures has been on the front line for a while when it comes to creating various designs for new sunrooms in Canada. They have specialists who have mastered environmental conditions all across the country to properly estimate the requirements of your sunroom.
Their mastery over the weather and different locations give them an edge in designing more efficient and aesthetic sunrooms for everyone. Their brand of quality mixed with affordable prices make them a good option among the best sunrooms in Calgary.
Highlights
They are accredited by the Better Businesses Bureau, with an A+ rating
Provides a lot of styles and options for the sunroom of your choice
Has dealers and branches all across Canada, since 1991
Customer Reviews
Here's a review from one of Suncoast Enclosures' clients:
"Working with Devin and his team was a great experience. We first got retractable screens on our upper deck and loved them so much we got an addition to our walkout as well. Devin was very attentive to our specific needs and just great to deal with overall. I have to also mention Chase who installed the screens and did a wonderful job. We needed a slight modifications due to a newly installed hot tub and he made it work out wonderfully. Highly recommend this company and their products.
Advice – go retractable screen all the way. More costly but well worth having the option to open and close dependent on the weather (especially in Calgary!).
Thanks for everything!!"
Here's another one:
"Suncoast Enclosures is a truly fantastic company to work with. From the initial call with Devin right through to completion. This company goes above and beyond. The workmanship is fantastic and the crews are a delight. I have had my inclosure for 6 years for those 6 years I have had a space that my family and friends are in awe of and a true extension of my home. And those pesky wasps only get to look from the outside in. Thank you Suncoast, my only regret is that I did not put this post up sooner. To anyone who is considering this, don't think twice, it is worth every penny and more."
4. Four Seasons
SERVICES
Services
WEBSITE
Four Seasons Sunrooms
ADDRESS
5065 13 Street Southeast Unit 103, Calgary, AB T2G 5M8
CONTACT DETAILS
403-812-0489
OPERATING HOURS
Mon – Fri 9am – 5pm
Sat 10am – 4pm
Sun By Appointment
When it comes to mixing elegance and functionality, Four Seasons Sunrooms are experts in both fields. They use the most durable and energy-efficient materials that are available to give you a room where you can enjoy nature, whatever the season.
They will help you create a space that you would love to use on a daily basis. Because they utilise the latest in insulation and climate control designs, you and your family will be comfy inside one of the best sunrooms in Calgary.
Highlights
They give you options that balance aesthetics and energy efficiency through using top-of-the-line construction materials
Gives you affordable pricing and a very accessible financing plan
Customer Reviews
Here's a review from one of Four Season's Sunrooms' clients:
"They replaced the roof and front wall of our conservatory this fall, as the old one was leaking and in pretty rough shape. Jeff at four seasons in Calgary was super knowledgeable and he and the crew provided excellent service both before and during the construction. We attempted to shop around, but there really weren't any comparable offerings. If you are just looking for a couple skylights, then you can find that wherever, but if you want a mostly glass installation for maximum light and unobstructed views, then four seasons is what you want. That became apparent after our first visit to their showroom. We are really happy with the end product, would highly recommend them to anyone, and will be using them again in the future."
Here's another one:
"After sometime of doing our research and decision making we choose Four Seasons Sunrooms of Calgary because of there history as well as there size of company, my husband and I didn't want to deal with a small one off company in case we needed any warranty work in the future. The project was completely done on budget and has been a great addition to our house. We dealt with Mike and can't say enough great things about him and his installation crew, which he worked with on a daily bases. Thanks Mike"
5. Blueflower Sunrooms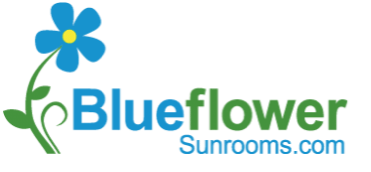 SERVICES
Screenrooms
Glass Sunrooms
Patio Covers
Talius Motorized Screens
Talius Rollshutters
Claroflex Glass Door and Panel System
Deck Construction
Optional Products
WEBSITE
https://blueflowersunrooms.ca/
ADDRESS
HEAD OFFICE
41070 Cook Road, Bay 8 Rocky View County T4C 3A2
CONTACT DETAILS
Phone: (403) 851-2089
E-mail:

[email protected]

OPERATING HOURS
Contact for more information
Create a vacation spot right outside your back door with a Blueflower Sunrooms. We prefer them over other companies because all of their sunrooms have a customizable option.
Simply let them know what you want and they will make it happen.
Aside from getting a sunroom, with them, you do not need to worry about paper works because unlike others, they will be the one to take care of all municipal building permits and build everything to code.
We prefer them because they have two types of sunrooms, 4-Season Sunroom and 3-Season Sunroom. The difference is that the first one has a double pane glass, while the latter only has a single pane glass.
Getting the 4-Season Sunroom is perfect if you want a year round enjoyment, because as its name says, you are safe and protected.
Highlights
$5,000,000 commercial liability insurance
Industry leading 2 year labour warranty
Customer Reviews
Here are reviews from their satisfied customers:
"It was our good fortune to find Blue Flower Sunrooms and engage them to build our new sunroom. These guys are good. They don't cut corners and the workmanship is impeccable. Doug and his team helped us design the project, secure all necessary permits, and do the build. We greatly appreciated their willingness to change the plan and allow it to evolve…to put it another way, we waffled a bit on what we wanted and Blueflower took it in stride. Finally, Doug and all of his crew were a pleasure to work with. It's a real bonus when business can be conducted in a pleasant and friendly manner. Thank you Blueflower! Note: This review was written while sitting in our new favourite place to hang out, our sunroom."
"Thanks Blueflower for an outstanding job done on supplying and installing our awesome sunroom. We had selected Blueflower after reviewing the competitors, and nobody could compete with the quality, ability to customize, and price that Blueflower offers, we are soooo happy! Doug and his team did a great job in completing the project, even in the winter! Thanks again, we highly recommend Blueflower to anyone looking to add additional living space for year round enjoyment."

The companies we've named as the ones doing the best sunrooms in Calgary have been proven reliable when it comes to sunroom building and installations, so give them a call now!
By the way, we know it's easier to sleep at night knowing that your entire house is secured—including your sunroom. For the best home security services in Calgary, check out our other list in the construction and handyman services series!
*images sourced from featured websites