Looking for a great way to rejuvenate your skin? Fortunately for you, the clinics for the best chemical peel in Calgary are here to take care of it.
Chemical peel is a great solution for skin-related problems such as hyper-pigmentation, textured skin, discoloration, and acne scarring. But you have to get it from trusted providers or it can turn into a disaster.
The clinics we've found are known for the safety and consistency of their chemical peels. Check out our list below for the best chemical peel in Calgary. 
1.  New Skin YYC – Medical Esthetics and Laser
BEST FOR 
Skin Procedures and Laser Treatments
PRODUCTS
FACIALS
CHEMICAL PEELS
DERMAPLANING
MICRODERMABRASION
MICRO-NEEDLING
LED LIGHT THERAPY
LUMECCA
LASER HAIR REMOVAL CALGARY
WEBSITE
https://newskinyyc.ca
ADDRESS

New Skin YYC – #200 – 1209 1 Street SW, Calgary, AB

CONTACT DETAILS
Email: [email protected]

Phone: 403-616-7493

OPERATING HOURS
By Appointment Only

Monday – Friday: 9:30 AM – 4:00 PM

Saturday: 9:30 AM – 12:00 PM
New Skin offers one of the best chemical peel services in Calgary. It makes medical-grade products and superb skin care solutions accessible to everyone.
It is led by Melanie Rodrigues, BN, who has been working in the healthcare industry since 2003. She is an Advanced Clinical Esthetician and a Certified Skin Care Therapist in chemical peels, microdermabrasion, and facials, so you know that you're in good hands with her.
We absolutely loved the accommodating and relaxing environment within her clinic. They're also good at assessing various skin types and using the most suitable products for your needs.
However, they currently don't accept walk-in clients, so you really need to make an appointment beforehand.
But all in all, we highly recommend New Skin for the quality of service they offer. They will even provide you with some sample products so you can prolong your home treatment.
Highlights
The founder has been in the industry since 2003

Excellent skin type assessments and high-quality skincare products

Clean and welcoming clinic environment

Socially responsible business with its partnership with TreeEra
Customer Reviews
Such a beautiful space with amazing customer relations
"Melanie was so wonderful – as someone who has never done laser hair removal before, I wasn't sure what to expect. She made me feel entirely comfortable and invited me to let her know if I needed to take a break (which I didn't). Would highly recommend New Skin YYC/Melanie! Such a beautiful space with amazing customer relations, I won't be going anywhere else!!" – Lindsay Avramovic
My results are amazing
"I started doing full body laser hair removal back in November 2021. I have had 4 sessions with Melanie and my results are amazing! I probably only need 1-2 more done. Melanie is very professional and knowledgeable at what she does! Her new location is beautiful!!" – Samantha Snoddon
2.  Isabelle Ouellet – TrueSkin Clinic
TrueSkin Clinic is owned by head consultant Isabelle Ouellet, an advanced skin therapist. She has worked in the skin health industry for over 20 years now.
And as one of the clinics for the best chemical peel in Calgary, TrueSkin Clinic has done careful research in order to provide only skincare products and treatments that truly achieve great results. That's why this is one of the places to go for a chemical peel in Calgary.
Highlights
Body contouring
Laser hair removal
IPL photo rejuvenation
Customer Reviews 
TrueSkin Clinic is recommended by their patients for giving the best products, having professional and knowledgeable doctors and staff, and offering an enjoyable environment.
Some patients wrote reviews and said:
"Isabelle is amazing! I've been seeing her for about 4 months and she has helped my skin immensely. She is super friendly and knowledgeable and has great advice on products and services. I'd definitely recommend her work – she's the best!" 
"The service I received was amazing coupled with the fact that they had amazing knowledge and insight on how to properly care for your skin. The most amazing part is the individualized treatments. I have suffered so much with acne, and oily skin and could never find the best treatment plan to help my skin, but after visiting true skin, I can see a lot of changes and natural glow that my skin has. You should really schedule a consultation to learn what is best for skin"
3.  Skinpossible Laser & Light Solutions Ltd.
Skinpossible Laser & Light Solutions Ltd. is a leading medical aesthetics clinic that offers high-quality medical aesthetic services.
The clinic focuses on advanced non-surgical solutions to treat your skin and body, which includes injectables, lasers, skin tightening, body contouring, medical-grade skincare, and more.
And as one of the clinics for the best chemical peel in Calgary, Skinpossible Laser & Light Solutions Ltd. is well-known for the quality of their technology, wide array of treatments, informative marketing, and honest consultations.
Highlights
An award winning clinic offering award winning treatments
The top CoolSculpting Clinic in Western Canada and the top Ultherapy clinics in Western Canada
Specializing in premium treatments for cosmetic purposes (not dermatology) we are the industry leader in medical aesthetics in Calgary
Customer Reviews 
Having a clean and organised clinic and friendly and professional reception staff aren't the only things Skinpossible Laser & Light Solutions Ltd. is known for. They are also recommended by their patients for their knowledgeable doctors, great products, and top-notch equipment.
Some patients wrote reviews and said:
"I love this place because since you step in you can feel peace as if in a zen retreat, every employee is super friendly, they each have great energy, they are very helpful, super professional and it's a very nice and clean clinic. Ohh and all the employees look GREAT, like models! As if they make use of every single treatment they offer, which makes you feel more confident on your 1st time of treatment! ?"
"I recently had a treatment with skin possible and was blown away by their professionalism and knowledgeable staff. Their gorgeous office and amazing staff made my experience very relaxing. I am starting to see results after a month and I'm obsessed and can't wait for round 2."
4.  Dr Yousra Hakim – Luminous Skin
Luminous Skin offers aesthetic and skincare solutions that help clients get radiant, smooth and glowing skin. The clinic is led by Dr Yousra Hakim, a skin and laser hair treatment expert.
They use advanced laser and skin care equipment to eliminate unwanted hair, rejuvenate skin, and make you look younger.
And as one of the clinics for the best chemical peel in Calgary, Luminous Skin offers Gentle PRO, a laser hair removal device, and eTwo Sublime, a modern tool that eliminates your skin problems. Their technology gives them a serious advantage in medical aesthetics.
Highlights
Acne scars
Fractional resurfacing
Stretch marks
Customer Reviews
Luminous Skin gives the most amazing experiences, according to their patients, because of their great treatments, service, doctors, and staff. Patients even recommend the clinic to their families and friends.
Some patients wrote reviews and said:
"Before trying this laser service, I was dealing with stubborn chin hair and was quite depressed about it. I have tried other laser services but nothing helped with the hair on my chin. When I did my first consultation with Yousra, I automatically saw a difference in the hair growth on my chin and felt really happy ! Thanks to Yousra and her services, I have decided on the full body laser and all I can say is that it's the best decision that I've ever made. You will not be disappointed ! I suggest Yousra and her services to all of my family and friends. You will definitely see results !!"
"I had a chemical peel done by Yousra  and her work was amazing and relaxing, she explained everything step by step and was very gentle. I had some laser done too and very pleased with the out come so far. I highly recommend her she's amazing at what she does and very friendly :)"
5.  Dr T. Wayne Sefcik – Perfexion Skin Care
Perfexion Skin Care is led by medical director Dr T. Wayne Sefcik, who is devoted to lending a helping hand to patients who want to improve their physical appearance, their self-esteem, and their well-being.
As one of the clinics for the best chemical peel in Calgary, their trusted doctors have had over 20 years of experience on advanced facial aesthetics.
Perfexion Skin Care offers customised skin care treatments to cater to the individual needs of their patients with the use of trusted, reliable, and natural-looking treatments.
Highlights
Botox
Laser hair removal
Laser skin tightening
Microdermabrasion
Chemical peel
Customer Reviews
Perfexion Skin Care is recommended by their patients for having a great team of experts, amazing results, comfortable treatments, and excellent customer service. 
Some patients wrote reviews and said:
"Professional, experienced, diligent, skilled, friendly and efficient: Perfexion Skin Care is five stars! I am grateful to Erin for taking such amazing care of my skin – she is the best nurse injector I have ever been to, and the friends I've referred her to feel the same. I appreciate most how focused they are on their patients. My treatments work best for me, last longer than those I've received at other clinics, and are very competitively priced. I wish I had discovered this clinic sooner than I did, but I'm ecstatic that I found Perfexion! Especially if you haven't had injectable treatments before, this clinic is the one you must go to because of their gentle manner and thorough assessment and understanding of their products and your physiology: on all accounts, they set the barre. You will not be disappointed!"
"I have had a wonderful experience with the staff at Perfexion Skin care and would highly recommend them to my friends and family.  I have been a client for 3 years and wouldn't dream of going anywhere else. Thanks for a great client experience!"
6.  Marie Bertrand – SkinScience Clinic
SkinScience Clinic was founded by Marie Bertrand, with a vision for both men and women to have a safe place for ethical, science-based, customised skincare recommendations and procedures.
They clinic believes that everyone should have naturally radiant skin. They try to help patients achieve that with the use of their scientifically proven products, which are easy to use and suitable for all skin types.
And as one of the clinics for the best chemical peel in Calgary, SkinScience Clinic is known for providing personalised skin treatments. That's why people who want customised peels should go here.
Highlights
Medical facials
Chemical peels
Dermaplaning
Customer Reviews
SkinScience Clinic is commended by their patients for their great skincare products that work wonders. They have also helped improve the skin of their patients over the years, allowing them to keep coming back for more treatments and maintenance.
Some patients wrote reviews and said:
"I was originally referred to skinscience years ago by my dermatologist. They have helped me with so many things such as acne and melasma. I love their facials, and their laser hair removal works so well! Marie and her team are all so kind and knowledgeable. I highly recommend this great place for all your skin troubles, laser hair removal, or even just a relaxing facial!" 
"Marie's knowledge and expertise has brought about an award winning clinic where all of her clients receive the utmost in head to toe care! She is impeccably knowledgeable in all areas of skincare and only wants the very best for all who walk through her door! She takes the time to address your needs.. all of them! With humor and patience and dedication to providing the best of the best… Skinscience delivers on all levels"
7. GLO Antiaging Treatment Bar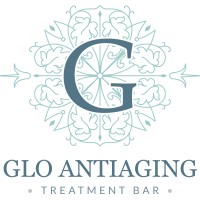 BEST FOR 
State of the art anti-aging technology and personalized services
PRODUCTS
https://gloantiaging.com/
WEBSITE
https://gloantiaging.com/
ADDRESS
811 14 St. NW – Plaza 14 Suite #813 Calgary, AB T2N 2A4
CONTACT DETAILS
403-455-0444
OPERATING HOURS
Monday: 10:00 a.m. -6:00 p.m.
Tuesday 9:00 a.m. – 5:00 p.m.
Wednesday: 9:00 a.m. – 7:00 p.m.
Thursday: 10:00 a.m. – 7:00 p.m.
Friday: 9:00 a.m. – 5:00 p.m.
Saturday: 9:00 a.m. – 5:00 p.m.
Sunday: By Appointment
At GLO, they are passionate about offering state of the art anti-aging technology and personalized service. At the same time, they also focus on combining modalities in order to maximize their client's results, their passion for customer service and dedication in building a strong relationship with their clients.
GLO guarantees to deliver the most innovative and effective aesthetic services on the market to make the customer look gorgeous and beautiful. Not only will their fantastic employees help you get the look you want but they will certainly give you the experience of a lifetime.
Highlights
Wide arrange of beauty products
Provides innovative and effective aesthetic services
Offers experienced employees
Customer Reviews
Here's a review from one of GLO's clients:
"I love going into Glo! They have the best treatments, the staff is so welcoming and friendly and it's so cute inside!"
Here's another one:
"Amazing staff, amazing place overall! ❤️
Will definitely return and recommend to friends"
And those were the best clinics for chemical peels in Calgary! Leave us a note below if you have any questions about them.
On another note, if you would like to achieve more than just getting a facial, check out our list of the best dermal fillers in Calgary, for more options at getting the appearance you want. These can work with your chemical peel professional to truly rejuvenate your look!